Super Mario Secret of the 5th Mario Bro
Super Mario Secret of the 5th Mario Bro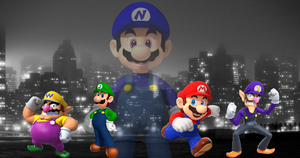 An image used for the game, the exact purpose of the image in-game is unknown
Franchise
Super Mario
Genre
Action Platformer
Developer
Nintendo
Publisher
Nintendo
Console
Nintendo Switch
Super Mario: Secret of the 5th Mario Bro is a new upcoming 3rd Mario Game for Nintendo switch where Mario, Luigi, Wario and Waluigi after receiving a mysterious letter in the mail from a mysterious man go to a mysterious city outside of the mushroom kingdom along with their friends, to investigate a mysterious person they believe to be a possible 5th brother of Mario, Luigi, Wario and Waluigi (This may or may not be a part of the same continuity as Ultimatevaltryek456's other Mario projects)
Story
Characters
Playable
Mario
Luigi
Wario
Waluigi
NPCs
Peach
Toad
Daisy
E.Gadd
Dr. Crygor
Alberto Pietro "Mario" - A mysterious man who appears to help Mario and his friends who claims to be the "Real 5th Mario Bro" who to help the Mario bros on their newest adventure, unlike Wario and Waluigi he has no real relation to the Mario Bros and instead is just a fan of them who wishes to be just like them and pretends to be their brother. he runs a series of shops around the city and will help out in levels from time-to-time.
Villains
Nario (The 5th Mario Bro) - The Half-Brother of Mario, Luigi, Wario and Waluigi who has lived in the mysterious city his whole life but after finding out about the Mario Bros and Wario Bros invited them to the city as part of a master plan of revenge.
Bowser - The King of Koopas who invades the city planning to kill the 5th Mario Bro before he becomes a possible enemy of him and the Koopa Kingdom.