Welcome to the Fanon Wiki, the online independent encyclopedia of fan-made ideas and fandom!
Excuse our look, we are still working on a lot of things.

The number of articles/files means articles/files on Fanon Wiki.

The number of users is shared between Fanon Wiki and Pikmin Fanon.

Create an article
To create an article, enter the title in the box below and click on the button.
Thank you so much for contributing to the wiki!
News
August 22nd, 2023
There's new featured content to enjoy! Thanks for the great contributions everyone!
May 5th, 2022
Fanon Wiki is live! Feel free to contribute to the setting up of templates, help pages, and project pages. Or, start some fanon of your own!
Featured article
The Adventures of Expired Milk, later known simply as Expired Milk, is an extensive series of over thirty video games released for Steam and available to play on computers. The series is highly praised and critically acclaimed internationally for its incredible story, immaculate design, and engaging, challenging gameplay. Despite the series and each of its installments being named after the titular character, Expired Milk, much of the series focuses on Felonious Gru's instrumental role in the overarching story, the reason being that Gru is one of Expired Milk's closest friends and allies. Very few of the games focus on Expired Milk's other companions, despite their equal importance to the overall plot.
Featured image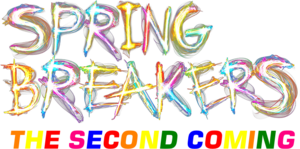 The logo of the film Spring Breakers: The Second Coming.
Featured video
No featured video yet!