Spring Breakers: The Second Coming
Spring Breakers: The Second Coming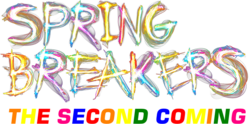 Logo for Spring Breakers: The Second Coming
Directed by
Written by
Starring
Music by
Production companies
Distributed by
Release dates
Country
United States
Language
English
Spring Breakers: The Second Coming is a 2015 American crime film directed by Jonas Åkerlund and is the sequel to the 2012 film Spring Breakers. Its screenplay was written by Irvine Welsh. The film stars Selena Gomez, Vanessa Hudgens, Ashley Benson, and Rachel Korine, all reprising their roles from the original film, as Faith, Candy, Brit, and Cotty, respectively. Its plot revolves around the four dealing with an extreme militant extremist sect that has escaped from death row in an attempt to convert them. Joel McHale, Sarah Midori Perry, Gus Lobban, and Jamie Bulled star as Peppermint Patrick, Carrie Bando, Taylor Fuji, and Justin Shiba, respectively. This marks the feature film debut of Perry, Lobban, and Bulled, together known as Kero Kero Bonito.
It was released on March 25, 2016, by A24.
Plot
Three years after the events of Spring Breakers have passed and Faith, Brit, Candy and Cotty are relaxing in Cotty's room after executing Big Arch in his mansion and placing a corpse of Alien in a funeral service. During that time, the four are watching a horror movie about a feral, bloodthirsty, and murderous gangsta rapping hippo, but the movie is interrupted for a PSA, much to their annoyance. However, an anthropomorphic dog appears on TV and informs that a trio of christian extremists have escaped death row and the viewers can prevent extremism. Faith likes the idea and tells Candy, Brit, and Cotty about the dog's orders. The others agree, and the four use Candy's laptop to discover ways to prevent extremism; Faith recommends that the four form a firing squad to execute the sect, to which the others like the recommendation.
Carrie eventually executes a drive-by shooting, wounding Faith. Peppermint Patrick tells the girls to retaliate; however, a traumatized Faith decides to return home, so the five give up and head back to the motel after they agree to take her home. While there, Peppermint Patrick gives Faith a therapy and gunshot treatment by giving her cup of water mixed with dextroamphetamine sulfate and toradol, which she drinks. Suddenly, her body begins to inflate, and she eventually bursts out of her torso and becomes a new self and a better gangster.
Cast
Production
A sequel to Spring Breakers, under the name of Spring Breakers: The Second Coming, was announced on May 6, 2014. Although the storyline will have connections with the previous film, it will include a new cast in addition to the original. Directed by Jonas Åkerlund, The Second Coming, which Irvine Welsh has been attached to script, will focus on a set of Spring Breakers coming into conflict with Christian extremists. Initially intended to be screened at the 2014 Cannes Film Festival,[1] it was eventually pushed back to October 3, 2015 at the Cleveland Cinematheque.
Upon the announcement, James Franco released a statement saying that the sequel was "not being done with Harmony Korine or my consent" and that the producers were "capitalizing on that innovative film to make money on a weak sequel" and attempting to "make money off someone else's creativity."[2]
On October 9, 2014, Joel McHale was cast as the male lead, and stated that The Second Coming would be officially released on March 25, 2016. On December 5, 2014, Heather Morris was confirmed to reprise his role as Faith's church classmate, Bess. In January and March 2015, it was reported that Russell Stuart would return as the DJ, and that Sarah Midori Perry, Gus Lobban, and Jamie Bulled, all which are members of electropop trio Kero Kero Bonito, had joined the cast.[3]
Music
Like its predecessor, the film score to Spring Breakers: The Second Coming was composed by Cliff Martinez and Skrillex; unlike its predecessor, however, Skrillex was contacted after Åkerlund sent music supervisor Randall Poster links to the electronica artist's music on YouTube.
For the film, Kero Kero Bonito released the song "Trampoline" on January 14, 2015. This song has since become a lone single from their EP Bonito Approved and, eventually, the lead single of their debut studio album Bonito Generation. One day later, Selena Gomez released "Me & My Girls", which would be a bonus track for her studio album Revival.
References