Ted 3: Road Trip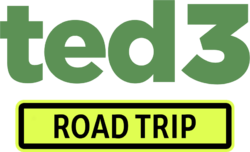 Logo for Ted 3: Road Trip
Directed by
Written by
Produced by
Starring
Narrated by
Cinematography
Edited by
Jeff Freeman
Music by
Production companies
Distributed by
Release date
Running time
Country
United States
Language
English
Budget
Box office
Ted 3: Road Trip is a 2018 American comedy film directed by Seth MacFarlane and is the third installment in the Ted franchise following 2015's Ted 2, which was a sequel to 2012's Ted. The film's screenplay was written by MacFarlane, Alec Sulkin, and Wellesley Wild. It stars Mark Wahlberg and MacFarlane, both reprising their roles from the original film, as John Bennett and his sentient teddy bear friend Ted, respectively. The film also sees the return of Jessica Barth as Tami-Lynn, Ted's wife. The story involves Ted and company going on a road trip to meet his creator. Kate Upton, Fox Lancaster, Taylor Swift, James Franco, and David Cross also star as Uniqua, Apollo Creed Clubberlang, Sarah Newman, Hank Warburton, and Kyle Stewart, respectively.
Ted 3: Road Trip was released on August 31, 2018, by Universal Pictures. A fourth film, Ted: Spring Broken, was released in March 2021.
Cast
Production
On August 31, 2015, Seth MacFarlane stated that Ted would be expanded into a media franchise, with a third film after Ted 2, under the name of Ted 3, initially set to be released on June 29, 2018.[3] On September 13, 2017, Kate Upton was cast as the female lead. On October 9, 2017, Taylor Swift was confirmed to portray Sarah Newman.[4] On November 21, 2017, James Franco and David Cross joined the cast, with Patrick Warburton and Bill Smitrovich returning to reprise their roles as Guy Keith and Frank Stevens, respectively. The film was eventually moved to August 31, 2018. Principal photography began on June 12, 2017, and ended on October 4 of that year. On December 1, 2017, Universal Pictures released a teaser trailer for the third film, giving the film an official name, Ted 3: Road Trip.
Soundtrack
The film's soundtrack was released by Universal Republic Records on August 8, 2018. It features the score by Walter Murphy and songs by various artists. Skrillex and Redhead performed the ending theme "Hit the Road" in a duet with Taylor Swift. The song was eventually nominated for the Academy Award for Best Original Song at the 91st Academy Awards.
References